Safedrive Driving Theory Training Course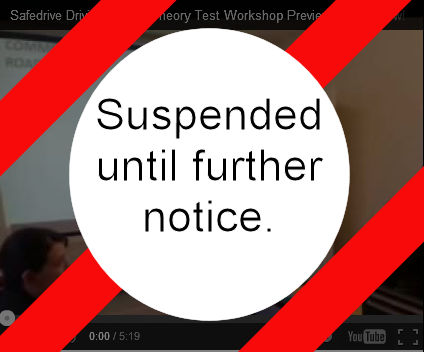 Small preview of the course ^
"We'll help you cut through all the Jargon..."
New for 2013, our Theory Training and Hazard Perception Course is designed to greatly improve your chances of passing the DVSA (Formerly DSA) Category B Car theory test. On average 4 out of 10 attempts at the theory test end with a fail certificate and the prospect of taking more time off and paying another £31 for a re-sit. Let us significantly improve your chances of passing first time with our new theory workshop loaded with help, advice and tips to improve your score.
You could be asked questions as varied as -

Do you know why Give Way Signs are the shape they are?

Do you know the legal speed limit for a mobility scooter?

Do you know what the colour of the "cats eyes" are next to the central reservation of the motorway?

The course will take the fear out of the theory and hazard perception tests breaking them down and simplifying them, explaining each part in detail so you know what the DVSA (Formerly DSA) are looking for from each part of the test.
The Hazard Perception part of the exam is often the most misunderstood. We will explain to you exactly what the DVSA (Formerly DSA) refer to as a "hazard" and signs of when one is approaching. We will also teach you failsafe techniques to maximise your chances of scoring high points.
The course also will dispel many common myths about the theory test. There is no way to "cheat" the system, but it doesn't hurt to be one step ahead of the game and our course includes a mock test in very similar surroundings and atmosphere to the actual test, giving you vital preparation and reducing your nerves on the actual day.
During the course, our trainer will give you a personalised breakdown of your results and point out certain areas to work on after the course. This will go into details such as which question banks you perform best on and which areas of knowledge you may need to jot up on. You will leave with your detailed test evaluation and a certificate of attendance too.

The course is lead by Grade 5 driving instructor and former teacher Jon Mann in an informal style.
Our course is a hands-on experience in our recently refurbished training room kitted out with new computers, projector, desks and printer. The course is fully interactive and aims to be engaging. Based at our Chesterfield office, easily accessible via road or rail with great public transport links from Sheffield, Derby, Mansfield and Nottingham. The course is open to anyone from around the country - if you need any info on how to get here or would like help with taxi info or accommodation please give us a call.
The course is also suitable for people with Dyslexia with full audio support and headphones available.
The course is also perfect for potential driving instructors coming up to their DVSA ADI / PDI part one test as it covers the whole test and covers the foundations of the theory.

Refreshments such as tea, coffee, squash and biscuits are provided. When you break for lunch you will be spoilt for choice with a sandwich shop, fish and chip shop, KFC, Costa Coffee and a large Tesco all within 5 minutes of our office.

Sign in is 9.30am with the course starting at 10am and finishing around 4pm. The workshop is fantastic value for money at just £49.95. Even better, if you are being trained by Safedrive we will subsidise the course for you by £10 meaning you pay just £39.95.
Our next course will be run on

TBA

6 places available on each day - first come, first served! (£15 non-refundable deposit required)
If you would like more information on this unique course, please call 0800 389 5302 or e-mail theory@safedrivedrivingschool.co.uk.