Safedrive Driving School - Driving Instructor Franchises, Jobs and Vacancies for ADIs and PDIs
In order to meet increased pupil demand we are pleased to announce our new driving instructor franchise plans for 2015 and beyond.

We are in a unique position that 70% of our instructors are now full and running a waiting list of pupils waiting to start. The remaining are either on a build up or just need one or two replacement pupils in order to replace test passes. This puts us in the situation that we are turning away work all over the UK. (We have turned away 1585 pupils in the first 3 months of 2015 alone!)
To promote growth we have an exciting new package that we are sure that will tempt you designed on based on many years of feedback from driving instructors across the UK. Our new package for 2015* has just a four week notice period with no long term tie in. We are that confident with the supply of work we can provide in your local area that you will want to stay with us, that you can hand in 4 weeks notice at any time after your initial two free build up weeks. Unlike other companies, we give you the freedom to use whichever car suits you.

There are no catches and nothing to hide - if you want to speak to a Safedrive instructor to see what we are like, just ask us when you enquire.

Also in response to feedback we have launched franchise packages with car rental inclusive.

As a company, we never stop learning and with over a decade of experience supporting driving instructors in their positions all over the United Kingdom we feel we can offer one of the best driving school franchises in the industry at an extremely competitive price. Ask us about our vacancies and jobs in various areas.

We genuinely take pride in what we do and believe that working together is the key to making your business a success. We take a personal approach to what we do, treating instructors as individuals. At the end of the day, every instructor is looking for something different from a franchise and this is where we come in.
Founded by a former ADI as a response to a bad experience with a franchise himself, we aim to offer a comprehensive franchise supporting you in what can be a difficult industry. We aim to not only supply you pupils but to also support your business in other ways, whether that is a quick call to see how you are getting along, keeping you abreast of the recent industry news or simply just being here to answer any technical question you may have. Despite being a national driving school, you will get the same friendly and helpful treatment that you would expect from any family-run business.

We have built a reputation for being a fair and honest company to work with -for example we only take on instructors in areas we feel we can offer them the full service we feel they deserve.
We aim to maximise your income and get the best lesson price for you. Our goal is for you to earn what you deserve by getting pupils in your diary, paying a full and competitive hourly rate as soon as possible.

Quality doesn't have to cost the earth.
Just £89.95 a week.

Our franchises are competitively priced with both headboard and car rental packages available. On top of this we offer free build up periods to help you get on your feet as quickly as possible.

We do not charge pupil fees.
Also for a limited time to give you the best possible start, we are also waiving all start up costs.
---
What our instructors say about us -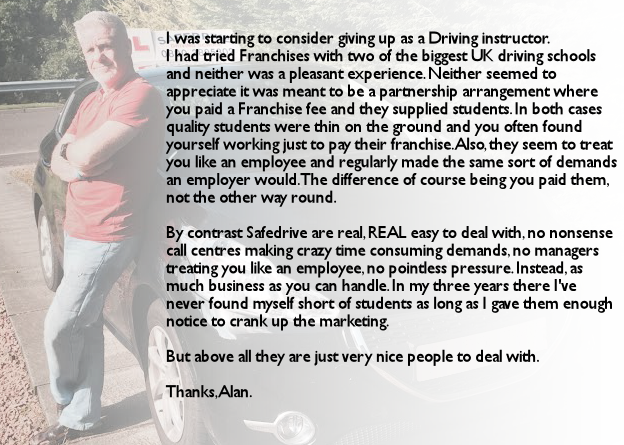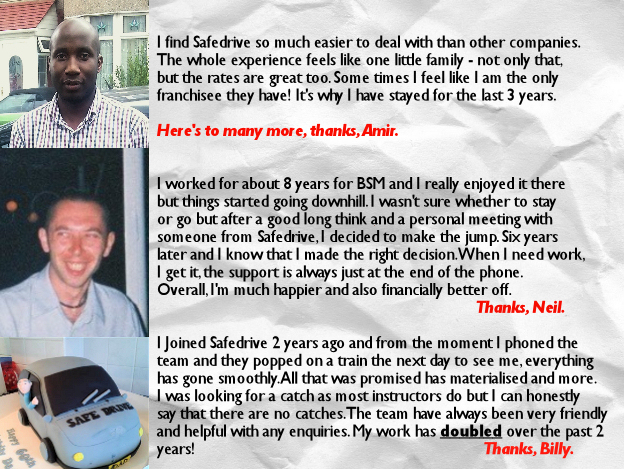 Other testimonials available on request....

---

There are so many reasons that make Safedrive the number one choice for your driving instructor franchise that we simply cannot mention them all here. We would love to send you an information pack which goes into more detail and/or meet you over a coffee and discuss what we can do for you.

Call 0800 389 5302 or e-mail franchise@safedrivedrivingschool.co.uk
*As from April '15

---

Have you ever considered an Automatic franchise?

Safedrive turned away over 1500 pupils looking for automatic tuition in 2014 and this number is increasing in 2015. There are numerous benefits to trading as an automatic instructor and we have a specific automatic franchise focused on this buoyant market.
For more details please visit www.safedrivedrivingschool.co.uk/automaticfranchises.html

Have you ever considered a female only franchise?

The female only driving school market is growing as pupils demand more and more choice - Safedrive Just Girls is one of Britian's most exciting franchises.

For more details please visit www.safedrivedrivingschool.co.uk/femaleonlydrivingfranchise.html